Emergency power solutions such as a UPS are required to provide backup to life support systems for a minimum of 2 hours.
Life support systems are generally plugged into a double or single GPO and can include equipment such as; automated doors, breathing apparatuses, hoisting equipment and other medical devices.

*Excerpt from the SDA Design Standards.
PSS Distributors have worked alongside engineers installing into NDIS facilities to ensure all UPS meet the specifications and are suitable for the lifesaving equipment.
PSS has a range of UPS to suit NDIS home applications. UPS run times are all in line with NDIS specifications – 2 hours at a specified load. At PSS we have made the selection of your NDIS UPS easy, with the guidance of the table below: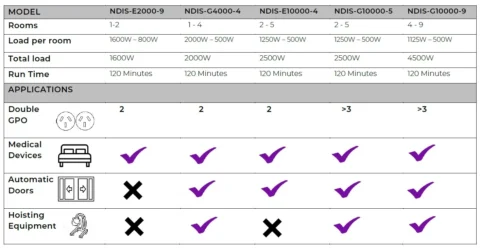 All systems can be customised to suit individual sites, specific applications or run times. Above covers standard applications, if these are not suitable, please get in touch with our technical team.
*Specifications may change without prior notice *It is the responsibility of the installer to ensure all NDIS legal and moral obligations are met